The 6 popular methods of garment production now include DTF Printing, DTG Printing, Screen Printing, UV Printing, Cad Cut Vinyl, and Dye Sublimation, all of which have their own advantages.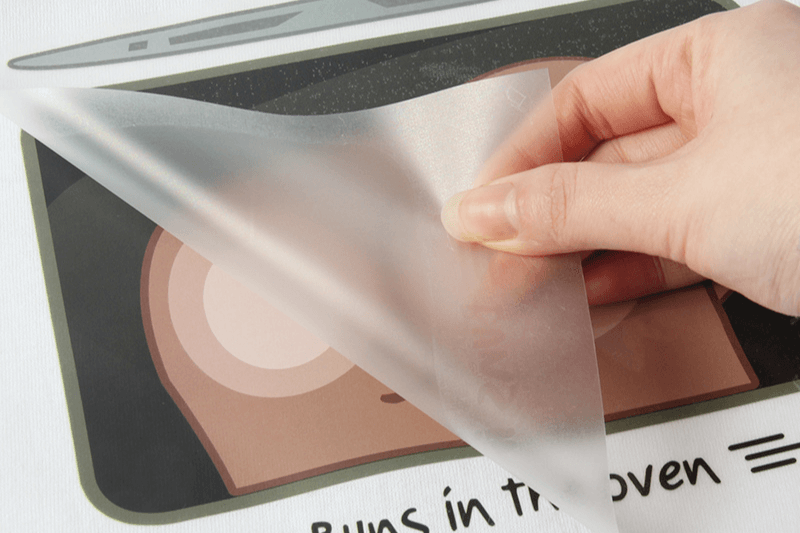 DTF Printing
Direct lamination printing is a unique printing technique in which a design is printed on a special film and then transferred to the garment. DTF printing is a thermal transfer process that has the same longevity as traditional screen printing.
When printing directly on textiles, your options are limited. DTF gives you more flexibility because you can print on a variety of fabrics, including cotton, polyester, rayon, nylon, silk, leather, and more.
Advantages of DTF printing
Garments do not require any pre-treatment to receive transfers.
Suitable for printing on all kinds of textiles.
Support various colors of clothing printing, both light and dark colors.
Low cost of purchasing machinery and easy to use.
The print result has high color density and saturation, excellent performance and durability.
Eco-friendly printing, no smell.
Low printing costs and mechanically automated processes.
Why are DTF printers so popular?
First of all, a direct to film printer can produce the same quality of T-shirts as a thermal sublimation printer, it can also do some jobs that a thermal sublimation printer cannot. There are no material limitations; it can print on cotton, polyester and Lycra.
In addition, it has no color limitation. You can get fine and exquisite colors on both dark and light fabrics. Thus, DTF printers have eliminated all the limitations of traditional printing processes. Moreover, since you don't need any processing in most cases, DTF printers save you money on overall printing costs. It can be highly profitable for your organization.
It is estimated that DTF printers will see massive growth in the texturing industry in the next few years. Suppliers believe that more and more companies will join DTF printing technology because of its predictable benefits. Therefore, if you are the owner of a textile or T-shirt company and want to produce printed fabrics efficiently and economically, DTF printers are a potential direction.
At the other end of the spectrum, Bluetooth headphone and earphone manufacturers also tend to manufacture Bluetooth speakers, and other wireless audio products.
DTG Printing
DTG printer, or Direct-to-Garment, is a relatively new technology that emerged in the 1990s. It became commercially available in 2005, but has only recently become a viable alternative to traditional production methods, but is still only offered by a handful of T-shirt printers.
As the name implies, direct-to-garment uses ink to print directly onto the fabric or item of your choice. It goes directly into the fibers of the fabric, which means you don't feel the design or the ink when you touch it.
Advantages of DTG Printing
Large range of color options
Available for detailed and extensive designs
Extremely fast process
Can be used for both large-scale and short-term production
Low set-up costs and ease of use
Effective also for colored garments
Accurate reproduction and high quality results
Water-based, making it eco-friendly+
Digital software can be used to create designs
Why should you use DTG Printing?
Direct garment making specializes in highly detailed, short run production printing on cotton garments. If you run a fashion brand, or want to provide custom-made garments for an event or business, then direct to garment is a very cost-effective option that offers you a large selection of options.
Since you can use digital images, this means you can easily use software to create a design, upload it to your supplier's website, and easily print out a shirt or bag with that exact design. There is little to no loss in quality and accurate reproduction means you always get a high quality design.
Screen Printing
Screen printing is essentially the process of transferring a design onto a plain piece of silk using a rayon screen and ink. It's a slow and meticulous process that requires a high level of skill, but the stunning results are unmatched.
Beautifully patterned silks can be found everywhere from home furnishings to the garments sported by high-end runway models, but these silks all started out as plain fabric before they were transformed via printing.
Advantages of Screen Printing
Suitable for mass production
Capable of producing textures with 3D effects
Suitable for bold and innovative patterns
Why use screen printing?
Screen printing is popular for the high quality look and feel it usually produces in the finished product. The thick layer of ink used sits on top of the fabric rather than being immersed in the material and often provides a sharp, smooth surface.
Natural fabrics are ideal for screen printing because they tend to absorb ink better than man-made fabrics – so screen printing works very well on silk. Although advances in technology mean that we are now able to print faster and more efficiently with digital printing, screen printing still has its place because of the results it provides.
UV Printing
UV printing is a unique method of digital printing that uses ultraviolet (UV) light to dry or cure inks, adhesives or coatings almost as soon as it touches paper or aluminum, foam board or acrylic – in fact, the technology can be used to print almost anything, as long as it fits the printer.
Advantages of UV Printing
The ink is dry the moment it comes off the press. There is no delay in waiting for the ink to dry before folding, binding, or performing other finishing operations.
Can be used on a variety of materials, including paper and non-paper substrates. UV printing works particularly well on synthetic paper, which is a popular substrate for maps, menus and other moisture-resistant applications.
UV-curable ink is less prone to scratches, scuffs or ink transfer during handling and shipping. It also prevents fading.
The print is sharper and more vibrant. Because the ink dries so quickly, it has no chance to spread or absorb into the substrate. As a result, prints remain vibrant and clear.
The UV printing process is more friendly to the environment. Because UV-curable inks are not solvent-based, there are no harmful substances that can be evaporated into the surrounding air.
Cad Cut Vinyl Printing
CAD-cut vinyl is actually a material used to print onto fabric – a material cut with the help of a computer. CAD-cut vinyl uses a unique vinyl material that is specially cut and then printed onto the garment using a heat press.
Advantages of Cad Cut Vinyl Printing
No setup fees
Can be used for almost any type of product
Can print A3 size transfers
Perfect for letters and numbers
Fast production speed
Great for solid color designs
Great for sports suits (e.g. soccer and rugby)
Printed garments are more sensitive and require special care when washing
Why use Cad Cut Vinyl Printing?
One of the main advantages of vinyl printing is that there are no set up costs, allowing for short run printing at very reasonable prices. It is also very versatile and can be used on almost all types of products including personalized t-shirts, polo shirts, workwear, bags, hats, microfleece shirts, overalls and much more.
Some of the most popular effects include glitter printing, glow-in-the-dark printing, reflective printing and flocking printing. The process for printing these special effect materials is exactly the same; a plotter is used to cut from the material before the design is applied to the garment itself using an industrial heat press.
Dye Sublimation Printing
Dye sublimation is a digital printing technique that uses thermal transfer to apply an image to a predetermined substrate. Also known as digital sublimation, the process is commonly used to decorate apparel, signs and banners, and other items with a sublimation-friendly surface.
Advantages of Dye Sublimation Printing
For fabrics, dye sublimation printing is often seen as a better option than inkjet printing. The biggest advantage is that dye sublimation technology creates a finished product that is significantly more durable than a product printed by an inkjet printer. Because the dye is essentially impregnated into the fabric, it actually becomes part of the fabric itself. As a result, the print will not be damaged by wear and tear, nor will it peel or crack.
Dye sublimation printing on fabric is usually more visually appealing. The process involves continuous tonal output in printing. As a result, it creates smoother, brighter color transitions and variations than inkjet printing. Dye sublimation printed fabrics typically have a superior overall appearance and a smoother surface.